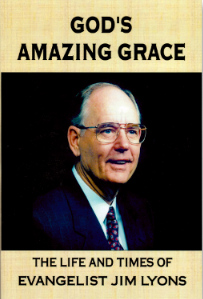 YOU NEED A COPY OF GOD'S AMAZING GRACE
You will find that the life story of Dr. Jim Lyons is a very interesting one: Growing up in the great depression…son of an old time Texas law man…in his youth purchased and drove a supped-up hot rod…at Kraft Foods Co. he rose, in seven years, from dock worker to Division Buyer…was lead singer and manager of the Stamps Jubilee Quartet…was assoc. pastor of two fast growing churches…preached in 38 states and in other countries as a widely used evangelist…has been happily married for 64 years…has reared children who know and serve the Lord.
Many readers have said…"I could hardly make myself put your book down!" We believe you will delight in it also.
This book will also instruct, encourage, and help you in many areas of your life. It will show you…
1. How to have a great marriage.
2. How to rear happy, godly children.
3. How to live daily in the will of God.
4. How to have the power of God on you as you serve Him.
5. How to get your prayers answered.
6. How to win the lost to Christ, week after week.
7. How to successfully live the Christian life.
"GOD'S AMAZING GRACE" was reviewed in the "Biblical Evangelist." The editor's advise was…"GET THIS BOOK!!"
Click here to order your copy of GOD'S AMAZING GRACE - The Life and Times of Evangelist Jim Lyons, today!